Hurry, last chance to save $400. Normally $695 now only $695!
5 Contemporary Specialties
5 Separate Workbooks & Readings
Self-Assessments & Reflections
5 Specialised Video Lectures (Webinars)
Limited time only $695.Normally $695 (save $400).
Program Overview
Our Major In Seriously Interesting Stuff (MISIS) is a passion project that brings together five (5) interesting contemporary areas of mental health, into a single cohesive Major.
MISIS is a deep exploration of five contemporary mental health topics: Mindfulness, Grit & Resilience, Growth Mindset & Neuroplasticity, The Mind-Gut Connection and Functional Medicine.
Each of the five topics comes with its own comprehensive learning material, including a Workbook, Readings and Video Lecture. All material is supported by the latest research and findings.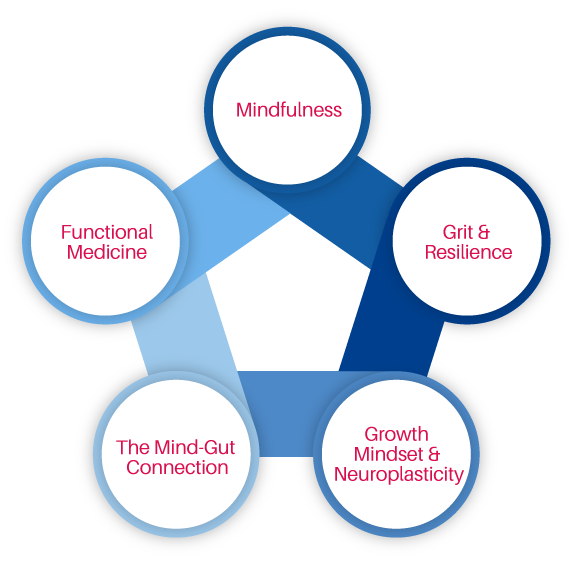 Science & Research-Backed
All content is supported by the latest research.
Each unit is a deep dive into the specialised subject area.
All resources are available through a dedicated online portal; and the program is self-paced.
Each unit is supported by a video lecture, as well as readings and workbooks.
Self-Assessment & Reflections
There are progressive self-reflection exercises throughout.
Practical & Highly Applicable
All content is delivered such that it's practical and applicable.
About the Five (5) Specialised Units
Save $0 on your enrolment for a limited time only. Normally $695, Now Only $695.
30-Day Money Back Guarantee
If you're not satisfied we'll give you your money back.
We've been at the forefront of the Counselling industry for over 30-years. We know we have the highest quality, most applicable and practical course available – with the best support services.
Zero Risk
This offer comes with a guarantee that empowers you to try our Major in Seriously Interesting Stuff (MISIS) entirely risk-free. If for any reason whatsoever you decide you do not want to proceed with this program within 30-days, we will give you your money back! It's a guarantee no other provider can match, and totally relieves you of any risk!
99%+ Satisfaction Rate
Our members love having world-class training at their fingertips, 24/7. And we're confident you'll love it too. Less than 1% of people request a refund, so we can be 99% sure you're going to love it — which is about as good a guarantee as you can realistically give. If you find yourself amongst the 1% that's not satisfied, no problem. Let us know and we'll refund you – again with no questions asked.
Frequently Asked Questions
Do I need to be enrolled in a course with AIPC to access MISIS?
Do I need a qualification in mental health to understand the MISIS course content?
If I am enrolled in a Study Major with AIPC, can I swap it for the Major In Seriously Interesting Stuff?
How will I access the learning materials for MISIS?
Is the course self-paced & accessible online?
Are the units (government) accredited?
Can I receive Recognition of Prior Learning (RPL) for MISIS units?
Will completing MISIS allow me to gain Recognition of Prior Learning (RPL) for any other AIPC units or Study Majors?
When is the program delivered?
When I register, do I receive all material straight away?
Is MISIS approved for Ongoing Professional Development?
What is the workload (approximate hours to complete) for the program?
Will I receive a Certificate upon completion?
Who developed the program?
Once registered, how long do you have to complete the program?
---